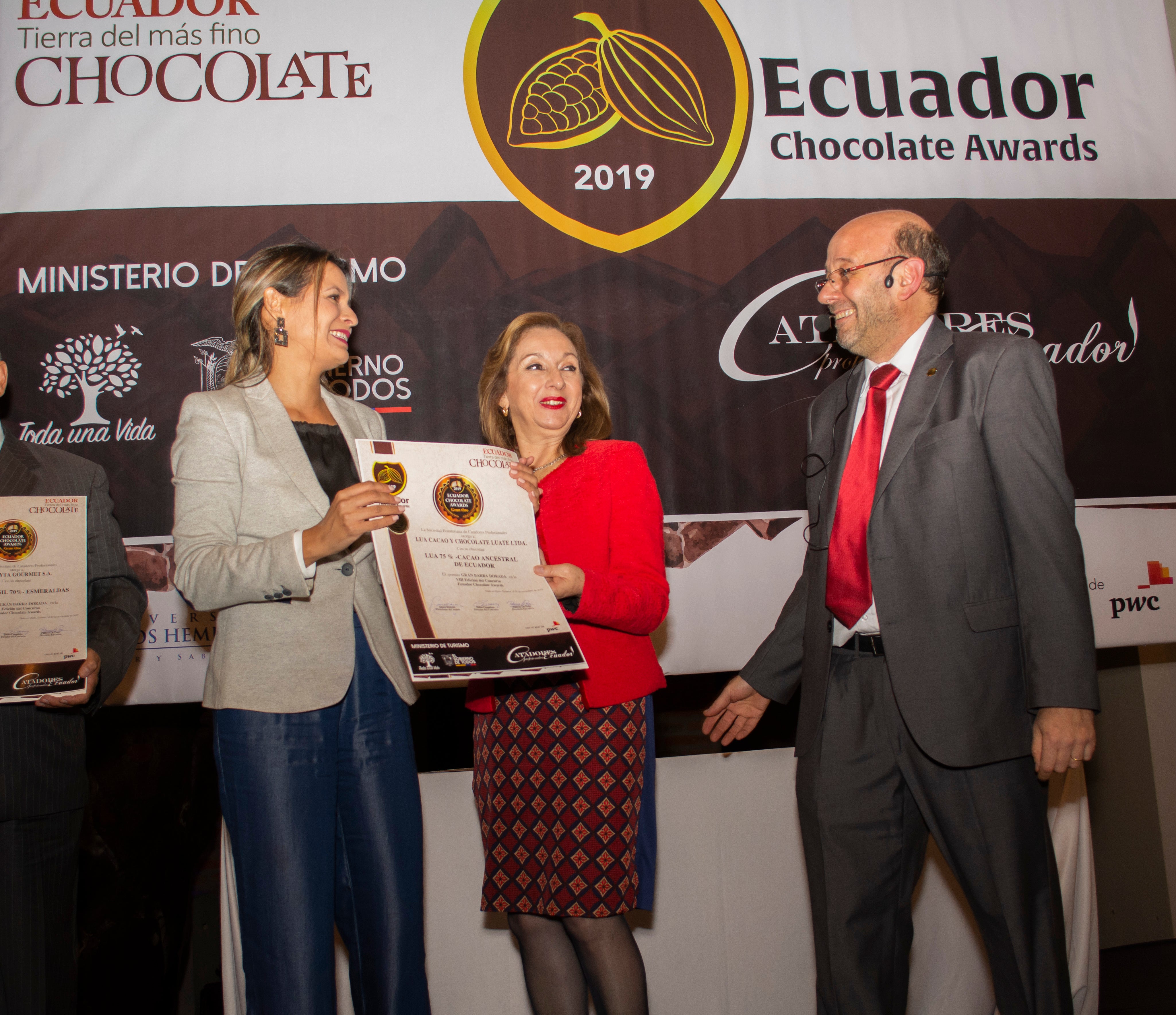 El Mejor Chocolate Negro de Ecuador
El día 20 de noviembre de 2019, tuvimos el honor de obtener el primer lugar del concurso Ecuador Chocolate Awards, organizado por la Sociedad Ecuatoriana de Catadores Profesionales, el cual contó con el patrocinio del Ministerio de Turismo de Ecuador y el aval de la prestigiosa compañía PWC.
Fueron 156 las barras participantes las cuales fueron evaluadas en una doble cata a ciegas con 3 días de diferencia por 20 catadores profesionales de chocolate. 
¡Fuimos los ganadores de la Gran Barra Dorada en la categoría Chocolate Negro! Esto no sería posible gracias al enorme trabajo de todo el equipo de Lua Chocolate.
¡Con esto demostramos que Ecuador viene sorprendiendo al mundo con la calidad de sus chocolates!
Listado Oficial y Ganadores (Tres categorías, La Gran Barra Dorada, Barra Dorada y Barra de Plata).
GRAN BARRA DORADA
LUA 75 % -CACAO ANCESTRAL DE ECUADOR
MINKA CHOCOLATE & COFFE ESPRESSO
MINKA CHOCOLATE & COFFEE CAPUCCINO
MAYTA ALBAHACA 70% ESMERALDAS
BARRA DORADA
PACARI RAW CHOCOLATE ORGANICO 100%
CONEXIÓN ESMERALDAS 66%
MAYTA DARK 70% ESMERALDAS
MASHPI CHOCOLATE ORGANICO 80%
RE-FINE MACHE-CHINDUL-RAINFOREST 70%
CONEXIÓN PASSION FRUIT-ESMERALDAS
PACARI PIMIENTA DULCE
PACARI MENTA
CONEXIÓN LEMON VERBENA & AMARANTH
MAYTA PINK SALT 55% PUERTO QUITO
RIGHTS 70% CON PANELA ORGANICA Y LIMON
MUZE CACAO Y UVILLA
YUMBOS CHOCOLATE ARTESANAL CON CAFÉ - MINDO
HOJA VERDE CHOCOLATE CON LECHE 50%
ME TO WE MILK CHOCOLATE + COFFEE NIBS-ESMERALDAS-42%
ME TO WE MILK CHOCOLATE + CANDY CANE-ESMERALDAS-42%
BARRA DE PLATA
PACARI RAW CHOCOLATE ORGANICO 70%
ME TO WE DARK CHOCOLATE 65%
MAYTA DARK 65% AMAZONIA
CHOCO CUMI LUGARES DE MI TIERRA IMBABURA 70%
MINKA HACIENDA SAN JORGE 65%
LA CAPITAL DEL CHOCOLATE ANDEAN CHOCO 63% CON PANELA
MASHPI CHOCOLATE ORGANICO 65% CON SAL Y CARDAMOMO
HOJA VERDE -CHOCOLATE ORGANICO- ROSAS-LIMON
MINDO CHOCOLATE 67%
MUZE CACAO Y FRAMBUESA
PACARI SAL DEL CUZCO & NIBS
YAAL CHOCOLATE NEGRO 65% SUPER 7
ME TO WE GOLDENBERRIES-ESMERALDAS
PACARI CARDAMOMO
ME TO WE MILK CHOCOLATE 42%-ESMERALDAS
MINKA CHOCOLATE & COFFEE MOCACCINO
¡Gracias Ecuador!